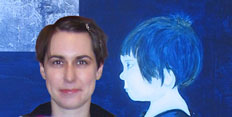 Anne Simernitski has made a reputation for creating artwork that range from paintings, abstract collages and illustrations. Her latest work "Azalee's series" is yet another proof of the artist's incredible diversity. The work compiles a series of paintings that are based on her daughter's drawings. "Azalee's series" showcases a number of colorful as well as very playful paintings that combine childlike features with sophisticated techniques.
The French native began her career as an artist back in high school when art history was part of her graduation program. Devoted to working in the arts, Anne Simernitski continued studying at the Louvre Museum School, Paris, France and later moved on to the Sorbonne Nouvelle University where she earned her BA in History of Art. Her decision to additionally earn a diploma in graphics design and multimedia at the IFIP College, Paris, only shows the very versatile and restless nature of the artist.
Whether it was before or after her move to the United States in 2000, Anne Simernitski has constantly been involved in the endeavor of making art. She comments about her creative process, "When I paint, I become immersed into my artwork. I become aware of the way I move, the way I breathe, and the way I think. When I paint, I not only invent my own vocabulary, but also my own music. The way I connect with my art is of high importance to me since it helps me reach out to the viewers of my paintings."
Besides being extremely talented, her success can also be attributed to her distinctive ability to network. She does not see other artists as competition but as inspiring colleagues. Thus, she is one of the founding members of Art Whisper, an artist organization based in Bellevue, WA.
Anne Simernitski has been part of numerous group exhibitions. She also has a number of private collectors throughout the Northwest.
Her success as an artist has been defined by a unique creative process and tremendous devotion. Her career that began at a very young age only continues to develop.